President Professor Arthur Peter Mutharika has expressed shock over the untimely death of Chief Technical Advisor in the Ministry of Health and former United Democratic Front (UDF) leader in Parliament Dr. George Nga Ntafu.
Nga Ntafu died on Tuesday at Mwaiwathu Private Hospital in the commercial capital Blantyre where he was rushed after being involved in car accident along Chileka road.
In the statement made available to FaceofMalawi, Mutharika said he is deeply shocked with Ntafu's death.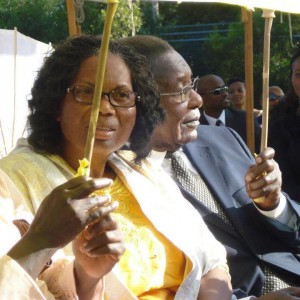 "The First Lady and I are shocked beyond words at the death of a statesman, Dr. George Nga Ntafu. The tragic, the inconceivable, has happened.
"But we are being comforted by the memory of his long, full and inspiring life. We are so proud of his devotion to helping thousands of Malawians through his medical profession and political career as he sought to change our mother Malawi for the better," wrote Mutharika.
Mutharika said he will remember Ntafu for his great contributions to building and strengthening the country.
"He was amongst the people who worked hard for our young democracy, we will forever remember his legacy and unique contribution to Malawi. George will be missed and he will never be forgotten," added Mutharika.
On her part, former President Dr. Joyce Banda said the country has lost the most distinguished neurosurgeons on the African continent.
"His colleagues in SADC and Africa usually consulted him for expert advice on cases relevant to his field. Therefore, Dr. Mtafu had been instrumental in saving many lives through his expertise not only in Malawi but in other countries in Africa and beyond.
"Apart from being a neurosurgeon, I shall also remember the late Dr. Mtafu as a dedicated and patriotic politician who selflessly served his country for many years. He was detained during the one-party dictatorship. After his release from detention, Dr. Mtafu could have chosen to leave and work anywhere in the world," said Banda.
Ntafu fought gallantly for democracy in the early 1990s during the first reign of Dr. Hastings Kamuzu Banda and thereafter served in the first democratically elected government as a Member of Parliament (MP) for Likoma and cabinet minister.
In 2012 Banda appointed Ntafu as an Advisor in the Ministry of Health.
Late Ntafu was born at Likoma and trained as medical doctor in Germany.
(Visited 21 times, 1 visits today)