The life of a 33-year-old woman, Dorcus Baloyi, was saved when kind police officers and residents trooped out to plead to her not to end  her life after she climbed a tree to commit suicide.
It was gathered that the woman was spotted sitting high up in a tree.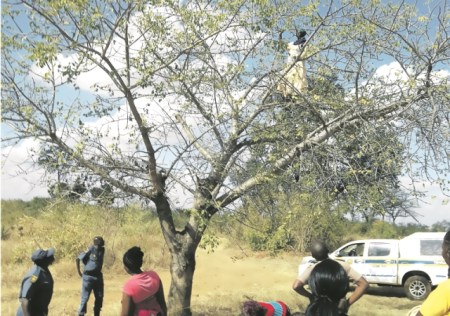 According to Daily Sun SA, the people from Mhinga Village, outside Malamulele, Limpopo said they thought Baloyi wanted to throw herself from the tree onto the road below in an attempt to commit suicide.
36-year-old Dashen Shivambu said he was driving through the road on Sunday when he saw the woman in the tree.
According to him: "She was walking back and forth on a branch. I stopped the car and went to find out what the problem was."
He said other motorists joined him and tried to negotiate with her to come down. After about 30 minutes they called the police.
"An officer climbed up the tree to get her to come down but she said she didn't need police assistance."
The report says she spent about 5 hours in the tree and finally came down by herself.
Limpopo police spokesman, Moatshe Ngoepe said: "If the woman was violent, police would have helped to get her down and take her to hospital. In that event, we advise her family to involve social workers if necessary."
Subscribe to our Youtube Channel: