Galilea United Methodist Church Men (Asodzi) donate assorted items to the four needy families in the church on Sunday, April 1, 2012 as part of ministry to the deserving.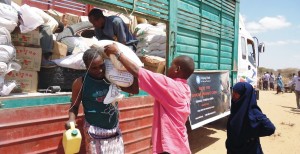 April 1, was the men's day to conduct the worship service at Galilea local church in Blantyre which ended with contentment to some members who received maize, clothes and a bible from the organisation which was organised as a present to end their week of prayer and fasting. At the church service, it was Palm Sunday cerebrating the entry of Jesus into Jerusalem.
Speaking as the secretary of the Men's Organisation, Stanley Ntchafu said they are pleased to support church members who are vulnerable and lack food in their families due to some challenges faced.
"We planned to end our programme by sharing the little we gathered with fellow church members as part of our ministry and doing God's words as a true fast according to Isaiah 58:7," explained Ntchafu.
In response after receiving the gifts, Fifteen Jambo appreciated the Men Organisation for supporting them during this very trying moments and Jambo himself was unable to provide the needs of his family due to illness.
"I was admitted at the Queen Elizabeth Central Hospital for three weeks and praise God my family is being supported by the church which is a true indication of fulfilling God's command of loving one another in hard times," Jambo said.
The Men Organisation was established in 2010 after the Men's Convention in Lilongwe with support from Methodist Men Organisation from Zimbabwe with a vision to bring more souls to Christ through different ministries of the church. Reports show that Galilea Men Organisation is one of the active organisations in the Malawi Missionary Conference.
Subscribe to our Youtube Channel: