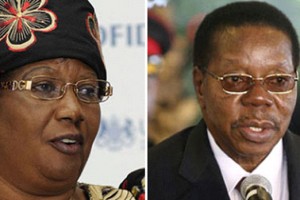 By REX CHIKOKO in Blantyre
The fallout between Malawi President Bingu wa Mutharika and his deputy Joyce Banda took a new twist after the government withdrew the Vice-President's security detail.
By law, Ms Banda, is entitled to government accommodation, security and funding for her office. However, since the disagreement with her boss, the government has been slowly withdrawing services to the Vice-President.
The spat, which begun in December last year, is linked to Ms Banda's intention to form her own political party. Funding for her office has also shrunk after the ruling party claimed that Ms Banda was instead using the money to help set up her party.
Ms Banda's office has confirmed that all her security detail has been withdrawn.
"I can confirm that two [police] vehicles, including a Hummer, have indeed been taken from the Vice-President's office," said Ruth Govati, the deputy press officer in the VP's office.
Reports indicate that the order came from State House with no reasons provided for the move. It is, however, not known who authorised the withdrawal of the security detail as Internal Security minister Aaron Sangala, director of state residences Edward Sawengera and national police spokesperson all claimed they were not aware of the order.
Ms Banda has been lately organising political rallies as she garners support for her yet-to-be registered People's Party (PP).
The government has so far refused to register the party, saying initials of its name were too similar to those of other political parties registered in Malawi.
Subscribe to our Youtube Channel: